Experienced Native Teacher to Progress Rapidly in Italian


CUSTOM-TAILORED ITALIAN LESSONS
to fit YOUR needs
---
Learn by Speaking with an Italian
For the past 15 years, I have been very fortunate to help students from all around the world.  So, I have learned that there are quite a lot of different reasons that led them to start learning Italian.
Actually, for some of them it was part of their linguistic studies; for others, the desire to communicate with the people they met regularly on vacation or with some newly-discovered italian relatives; I have encountered also quite a few who needed the language for professional purposes; and not a small number among all of them would also, if not primarly, be motivated by the desire to understand and share the Italian culture, arts and music that are so present in the dolce vita italiana.Therefore, I have learned and experienced that the best incentive to progress with pleasure and success on the sometimes demanding road of a new language acquisition, is to keep in mind the primary reason that pushed the student  to start this trip.
SPECIFICALLY DESIGNED TO FIT YOUR NEEDS
This is why  I design the course of my teaching and organize my lessons after hearing what my students expect from me since each one of them becomes the main actor of this process. As I love my work and pride myself in the results I have obtained, every student of mine receives a customized lesson plan which may include not only grammar, but also conversation and communication. We may broaden the scope of the lessons to encompass the italian way of life, its culture and history and for the more advanced level, contemporary societal concerns.
In addition, you can be sure that my lessons include all of the requirements actually in practice in the field of language acquisition as defined by the Academy, but each one of you has a different purpose, a different experience and more or less time to devote to this activity. Therefore we will determine together what is best suited for you and how I can help you the most efficiently to attain the objectives you wish to reach.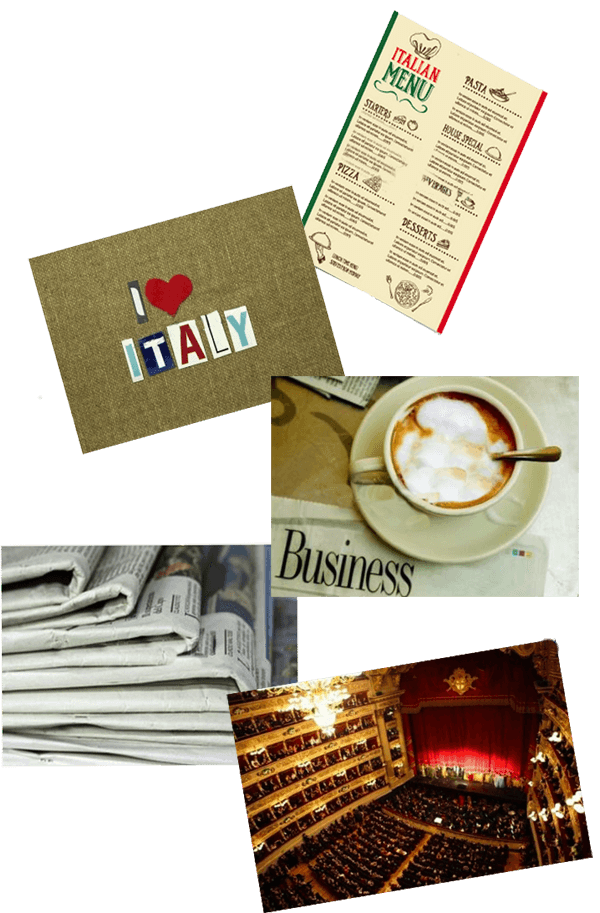 LA DOLCE VITA ALL'ITALIANA
We will soon be speaking and communicate
Thanks to today technology, the net and Skype, we have now the tools to set up real private and personal lessons at your place, where and when it is the most convenient for you so that you can be the most receptive and so progress efficiently in your quest.
Do not hesitate to contact me if you have further questions and I will be happy to bring all the information you need to help you decide if I can help you meet your expectations.